Diagnosing, Treating, Preventing diseases in Adult Population from Chronically ill to Short Term Care.
Katy, TX
Internal Medicine Doctor in Katy, TX.
Lifecare Primary Medicine Associates PLLC. Full-service Internal Medicine practice that specializes in the management and treatment of Adult Medicine. Foundation of your personalized health care program over a broad range of services. 
Lifecare Primary Medical Associates PLLC at Katy, TX delighted to Welcome Adults 18 and Up  
for the ultimate, personalized experience for all your primary care needs.
Internal medicine and it's coverage for adults care in Katy: Internal medicine deals with the prevention, diagnosis, & treatment of diseases that affect adults. Doctors who specialize in internal medicine are known as internists. They provide comprehensive and long-term care in the hospital and the office. Internists are also known as primary care physicians. They are concerned about the interactions of body systems, and how they can assist with your condition ranging from headaches to arthritis and asthma, diabetes and high blood pressure.
Internists provide routine preventive care. They specialise in diagnosing and treating a wide range of diseases and conditions.
Internal medicine physicians undergo years of training so that they can give you the best healthcare possible. They offer counselling services and track your screenings, which helps you stay healthier. Looking for an internal medicine doctor at Katy?
Our physicians have special training in

Internal Medicine
in managing chronic conditions, such as diabetes or arthritis, and often work with patients who live with more than one health condition. We will be your partner through every stage of life, focused on providing health education, personal support, preventative care and treatment to keep you at your best. 
Management of chronic diseases
Preventative medicine, including health screenings and physicals
Smoking cessation
Treatment of minor injuries
Vaccinations
Weight management
Women's healthcare
Internal Medicine  Katy, TX
If you've been looking for physicians at Katy, TX, let's meet with our experienced board-certified Internal Medicine doctor and primary care physician for personalized health care program. We offer expert compassionate care from a new, independent, family-run, family-friendly clinic. We are available to offer preventive care and attend to your ongoing good health. A well-experienced team is here for Comprehensive Preventive Medical Examination and a Personal Wellness Plan, which serve as the foundation of your personalized health care program. We provide a specialized focus on diabetes, obesity, hypertension, lung diseases, heart diseases, and many more.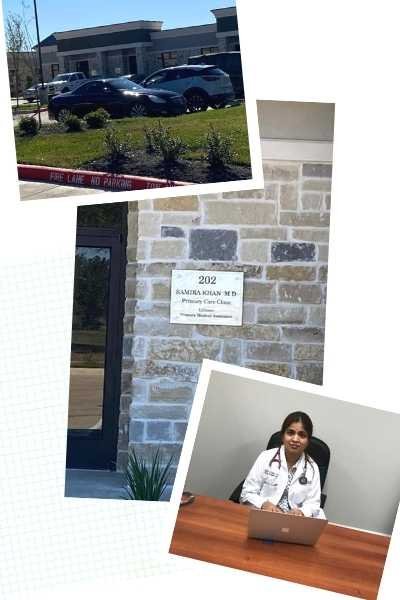 We are located at Katy, TX and serving patients from Sugar Land, Cypress, Richmond, Katy and South-West Houston
Opening Hours
| | |
| --- | --- |
| Monday | 08:30 – 16:30 |
| Tuesday | 08:30 – 16:30 |
| Wednesday | 08:30 – 16:30 |
| Thursday | 08:30 – 16:30 |
| Friday | 08:30 – 16:30 |
| Weekends | Closed |